V (episode 2) Critique
read my review of V's pilot episode
HERE
At this point, I am still a fan of the V remake and do intend to continue watching (even after the upcoming forced 4 month hiatus).
V is written for idiots.
To be fair, most television is. Here are some issues that bothered me:
-I was worried about the introduction of Visitor "drones" in the first episode and especially after their use in espionage in the 2nd episode. With roaming technology such as this, it seems that the Visitors would have such an upper hand against any resistance nearly impossible. (That is not to say that technology is superior to the will of the people.) However, I guess with all the space travel and human disguises, the Visitors are still lacking in photo/video technology so the "drones" are not as useful as I thought. WTF?!
-My biggest gripe about the show is how easily Father Jack and Eric are able to sneak around the Visitors/FBI. I got news for you viewers: The US government, even unaided by alien technology, can track you via satellite/GPS, has CCTV outside their headquarters, and probably can read lies even better than I can through poor acting.
Maybe the Visitors/FBI are allowing Father Jack and Erica to go about their resistance building in order to track them. Even if that was the case, however, X is an FBI agent and would be aware that casually talking to someone who was caught on tape at a hot location and has given information to the Feds right outside of FBI HQ might be a little fuckin suspicious.
The audience is left with only one option: The FBI doesn't do that. We are indirectly made to believe that our government has no interest in tracking its good citizens. Anyone who is familiar with security culture or the US government's actions throughout history and up to today, knows this is not the case.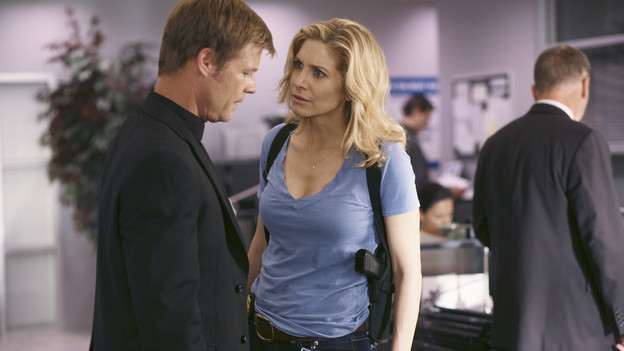 At least when naive Erica called 911, it was immediately tracked by the Visitors.