Seth Rogen & Date Rape
Hey, I loved him in Freaks & Geeks and thought it was cool how he graduated to writer with Undeclared but now I am a little tired of Seth Rogen's bro humor.
I don't know if anyone even plans on seeing his latest masterpiece 'Observe And Report' about a mall cop. Here's another reason NOT to see it. Rogen's character
rapes an unconscious female after heavy drug and alcohol use!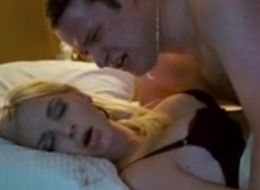 Seth Rogen justifies it like this:
When we're having sex and she's unconscious like you can literally feel the audience thinking, like, how the fuck are they going to make this okay? Like, what can possibly be said or done that I'm not going to walk out of the movie theater in the next thirty seconds? . . . And then she says, like, the one thing that makes it all okay: "Why are you stopping, motherfucker?"
Ya, hilarious, Seth.
This film is all about a fascistic loser who goes to great lengths to protect a woman's innocence (whom he rapes) from a flasher who he eventually kills.