Ben Edge On Music 12
The Killers:
"Totally embarrassing to watch. Brandon Flowers is one of the less intelligent rockstars around today. The verses of that song sound VERY similar to "Dancing in the Dark" by Springsteen. Rolling Stone ripped them a new asshole on Sam's Town for ripping off Springsteen, and then gave them a good review on the new album, BUT they're STILL ripping off Springsteen!"
_____
No Wave/Post Punk/Art Punk:
"ART PUNK! BOOOOOO!
I am violently allergic to any attempt at creating music by art school students, or anybody who wanted to go to art school. That said, I bet a lot of bands I like went to art school, and I don't even realize it. Johnny Rotten and Sid Vicious dropped out of art school, so I don't count them."
_____
Fat Mike vs. Avenged Sevenfold:
"I read
that Fat Mike quote
somewhere recently. I can't say I disagree with him at all, although I've never played poker with Avenged Sevenfold, so I can't either confirm or deny that statement. Avenged Sevenfold, who if you think about it, are the worst band in the world, because at least we derive endless enjoyment out of trashing Brokencyde."
_____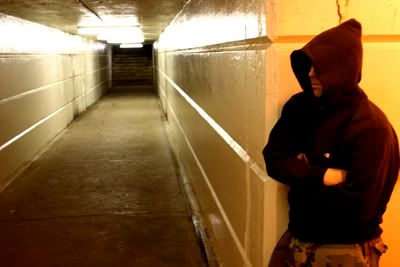 Mouthpiece -
"Can't Kill What's Inside" Discography
:
"If you put the CD in your computer, there is an entire 13 song set from CBGBs, 1996, as well as their only music video, which is actually not embarrassing despite how the band members feel about it.

The CD (or LP, when it comes out) is worth owning, because it has a list of every show they ever played, and who they played with. If you're a "hardcore historian" like me, then you're stoked on that kind of stuff.

Listen to the last track, "Control Interview 1990". Mouthpiece was originally called Control, and this is an interview from when they were all 15 and 16 years old, and it's hilarious. They joke about how they don't even have a demo out and labels like Revelation, Enigma, Dischord, In Effect, Caroline, Capitol, and RCA already want to release their album. Ironically, they're now on Revelation, post-mordem.

Best straight edge band of the early 90s"
_____
Handsome-s/t
:
"Not very good. I still own it."
_____
Quicksand- ep
:
"I was confused by it, because the first song I heard was "Hypno Jam with Dan", which is a bullshit track, and isn't representative of Quicksand's sound.
The other three songs are great. People say that this started the "post-hardcore" sound, but that's ridiculous, because tons of hardcore bands started playing different kinds of music way before this record. I say Homeland by the Middle Class is the first post-hardcore record. It's no good, but it's still a band that used to be hc doing something different."
_____
Last Rights - "Chunks"
:
"Fuck yes. Choke's band after Negative FX, but before Slapshot. They played one show ever. Taang Records put out a CD that has everything by Negative FX and Last Rights on it.
Dinosaur Jr. covered "Chunks" on an earlier single, and they stayed pretty true to the original.
My favorite Last Rights song is "Out of Our Minds". It totally sounds like a missing Minor Threat track. Well, the music does at least."
_____
Crippled Youth - "Join The Fight"
:
"Crippled Youth changed their name to Bold right around the time they started going through puberty. You'd think this was a joke record, until you realize that all the members are 15 years old. It has its charm to it.

Mike Phyte wanted to do a band I think with Jeff Capra back around '96 called Join The Fight, and it was supposed to be '88 youth crew style. I said I wanted to play guitar in it, and Capra said, "No, I want it to have only one guitarist, like the second Youth of Today record." I didn't think much of it at the time, but he picked one of the only records of that era that had one guitarist to follow the example of. Subtext: Jeff didn't like me. Now I'm in a band with him. Ha ha.

It's a positive positive positive scene!"
Broken Needle (with Ben on bass) will be playing with Zero Boys and Crucial Cause at 924 Gilman in Berkeley on Feb.20th!