Free Polanski?!
There are few "celebrities" that are more despicable than Woody Allen. In most cases, having sex with your step-daughter warrants a not-so-fun stay in the big house where you are treated accordingly. Woody Allen just shrugged his shoulders, married her, and made millions as some sort of supposed film genius.
Now Woody Allen, the creep, is coming to the assistance of fellow pederast, Roman Polanski.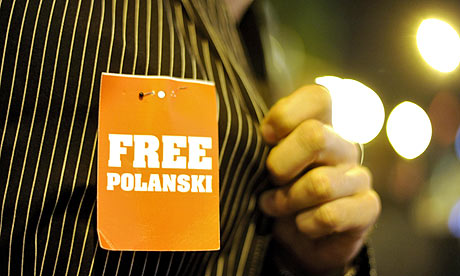 Seriously!?
Does the world have no better problems for which you to direct your attention to? Anyone who signs the petition or champions the release of a man who drugged and raped a 13 yr old, ought to just join the free Phillip Garrido cause as well.
Fuck off:
Michael Mann, Wim Wenders, Pedro Almodóvar, Darren Aronofsky, Terry Gilliam, Julian Schnabel, the Dardenne brothers, Alejandro González Iñárritu, Wong Kar-Wai, Walter Salles, Jonathan Demme, Tilda Swinton, Monica Bellucci, Asia Argento, as well as Harvey Weinstein.