2007: the end
I have always enjoyed looking back at a calendar year; remembering good times and milestones, recounting specific art or events that made the year better. Maybe I am just getting older but this year and other recent years seem to have less standout moments and more of a general ongoing vibe.
my 2007 highlights:
I bought more music in 2007 than probably the previous 10 years combined (damn record companies!).
Easily the best song I heard was
Kanye West's "Stronger"
. I got a little sick of it but it was THE BANGER of 07.
Blaqk Audio
and
M.I.A.
are close to the top. However the most solid album all the way through goes to
Common "Finding Forever"
.
The only super standout punk/HC release this year could be
Go It Alone's "Histories"
.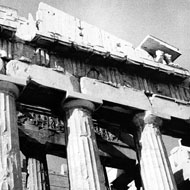 I am gonna break my own rules and suggest that an album released in 2006 was actually my favorite of 2007...
"The Black Parade" by My Chemical Romance
!
I am almost embarrassed to admit it but a year later, I still can't get enough of this concept album.
I enjoyed all the art openings I attended at
Shooting Gallery/White Walls
and
Upper Playground
but I think
Chris Conn Askew's
prints got me more excited.
As for live music, the best of 2006 ended up my favorites of 2007 too:
108
and
Never Healed
with
From Monument To Masses
right up there too.
Of course
Baader Brains
killed it with their live return and lp + shirt.
Maybe the biggest highlight of 2007 was the band that I helped form with some friends. In the end, it dissolves without much of anything. However, it did allow me to sharpen my teeth.
I also enjoyed my first proper vacation in many many years as I travelled across the
American Southwest
. Along the way, a lot of food, fun, and family were found.
My mood starting 2008 is far far better than my mood a year ago.
I look forward to a year with new beginnings, being more creative, and pursuing interests found in the later part of 2007.
HAPPY NEW YEAR!